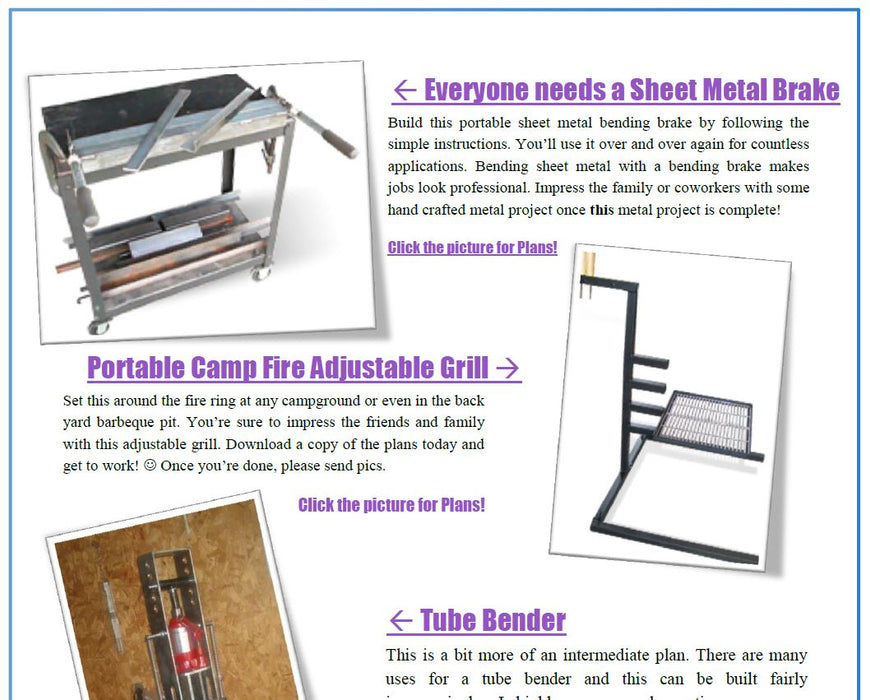 10 Free Welding Projects - Welding Plans - Digital Download
10 Free Welding Projects Instant Download PDF
-Please note, this is a PDF file that will be emailed to you. It contains links to project plans that we have found across the web. These projects are simple and fun to make, we receive no compensation for sharing these projects with you and are not affiliated with the websites that we share. We just share where we found it and give each original author full credit.  
10 Free Plans!
As a thank you for subscribing to DIY Welding Plans (www.diyweldingplans.com), I am happy to share my research with you of many of the free welding plans I have collected from around the web in the past decade. Please note, these are not our plans; however, we have reviewed them and feel that they present a great set of instructions that the at-home welder will be able to recreate without too much struggle.
You will see a few projects we recommend for the beginning welder. The reason we recommend them is because having these completed projects around the shop make it easier to fabricate other projects.
You'll see a welding table, which was my first project back in 2007. I still have it today and it has been a very valuable because of its versatility. After you download the PDF, you can click around and you'll see many other plans we recommend! Hope you enjoy this for a very long time!
Remember, download the file, then just click the pictures for plans and you'll go to the original website to view them. No tracking links and no fluff. We just want to share what we found to be useful and hope you feel the same after viewing it.

Free is good when its done right!
Don't always trust free welding plans to be complete. Many require creativity and thought! Remember, free not refined in most cases, it is meant to be a helpful guide to get you on the right track. There will be some useful tips and tricks included in some (not all) and since you're not paying for it, the author doesn't have to feel on the hook to support any questions you might have from them. This is typical for free. 
Everyone needs a Sheet Metal Brake:
Build this portable sheet metal bending brake by following the
simple instructions. You'll use it over and over again for countless
applications. Bending sheet metal with a bending brake makes
jobs look professional. Impress the family or coworkers with some
hand crafted metal project once this metal project is complete!
Portable Camp Fire Adjustable Grill 
Set this around the fire ring at any campground or even in the back
yard barbeque pit. You're sure to impress the friends and family
with this adjustable grill. Download a copy of the plans today and
get to work!  Once you're done, please send pics.

Tube Bender
This is a bit more of an intermediate plan. There are many
uses for a tube bender and this can be built fairly
inexpensively. I highly recommend creating your own
bender at first because it will allow you to produce more
professional looking results on your rounded corner projects
like a roll cage, cargo rack, basket, etc.

Belt Grinder Sander
Here is a medium sized belt grinder. This belt grinder can be built
using mostly spare or salvaged parts from broken appliances or
tools. This is a perfect tool for sharpening your axe, knives,
lawnmower blades, or anything else that needs to be sanded.
Check out that motor! I have a friend who built one using a
treadmill motor and he took the potentiometer from it to give it a
variable speed knob.