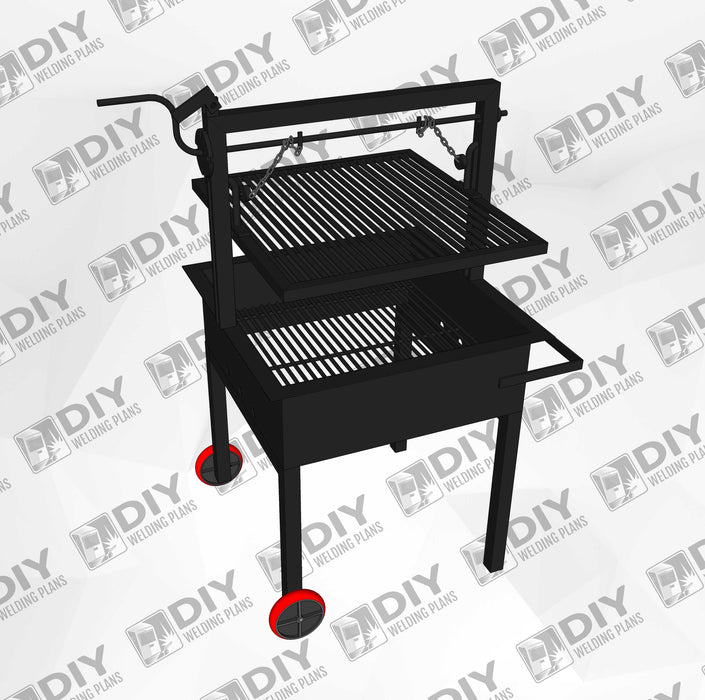 Cowboy Campfire Grill Welding Plans
Cowboy Campfire Grill

The cowboy campfire grill is an open fire pit style grill great for camping, and also cookingwith pots & kettles in the open. This grill is designed with a grill surface of 24" x 26" one can easily build this grill with different dimensions by simply changing some dimensions without hurting the integrity of the working of this grill. Grilling surface height is 29" which is pretty standard to most kettle style bbq grills. If desired this height could be altered by simply changing the length of the legs. The wood/charcoal firebox is 8 1/2" high with the grate that holds the coal approx 5 inches below the grilling grate when lowered all the way down. If you desire to have a larger capacity wood fire box simply change the dimensions of the firebox. The grill is raised and lowered by cranking the handle. The height of the grill in the full up position is approx 9" above the top of firebox, or 14" above the grate for coals/woodfire. Paint the Grill using a good High Temp Paint, purchased from any Hardware Store. The chain should be a small link sash type chain purchased from amy Hardware Store. The (2) 6" Dia. wheel can be purchased from any Hardware store. The set collars have a 3/4" Inside Dia. you can bolt the chain onto the set collar. The set collar can be located by sliding in onto the shaft and adjusted as required, they can be purchased from any Hardware Store.

* PLEASE NOTE:ON THE ASSEMBLY OF THE RAISE AND LOWER SHAFT
Leave all parts loose until assembly is complete and all parts are located before welding.

Charcoal Grate CCF-009 You can substitute expanded metal approx 1/4" thick 3/4 x 1 1/2 diamond size, if so desired.