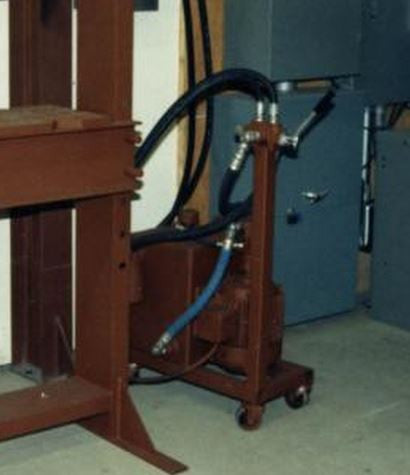 Hydraulic Power Unit Welding Plans
Yes, we know, this has been on your to-do list to build a power unit to power all of your hydraulic tools. At least the hydraulic tools you are planning to build, are we right? [wink]. Ok, so you may have a fab shop or a home garage, it doesn't matter, this unit is equipped to power your hydraulics and has all the instruction you will need to build one. Please see the specs below. 
1 HP Single Phase Motor
Electric Motor  Voltage 115
1/2 GPM @ 3,000 PSI OUTPUT
Max Pressure 3,000 PSI
9 Gallon oil reservoir.
Complete list of suppliers for purchased parts
This unit is self contained with 9 gallon hydraulic oil reservoir.
Heavy duty 10 gauge steel reservoir with a built in baffle. A suction filter will be used to protect the pump from contamination. A replaceable return line filter, pressure gauge on pressure pump outlet (to control max. operating pressure), and a simple coupling is used to connect the motor to the pump.


Buy the plans now and download them within minutes. Prepare your shopping list and you're well on your way to have a quality built tool that is sure to last a long time. Anything goes wrong with this and you'll know exactly how to repair it because you built it yourself. Buy with confidence. We guarantee our plans.