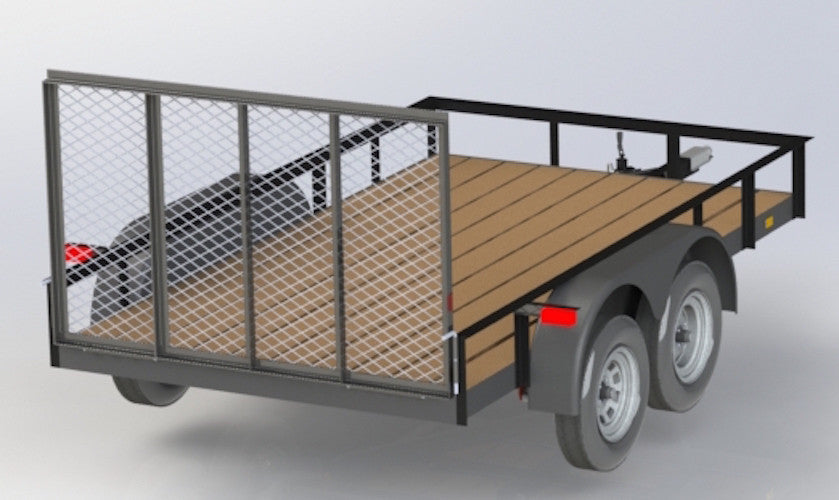 12 FT TRAILER with Dual Axle - Welding Plans - Digital Download
Weld your own - 12 FOOT HEAVY DUTY TRAILER with DUAL AXLES - from plans!
-Please note, these are digital downloads that will be emailed. You may print them on 8.5" x 11" paper. 
These Wood Deck Dual Axle Trailer Welding Project Plans show you how to build from scratch and use salvaged parts, scrap steel and more! All of the parts are available as new but for those like me who want to save money where possible, scrap steel can be just as good for a considerably lower price.  These plans cover everything you need to build your own car hauler including: Brakes, Electrical wiring, Lights, Materials, DOT Laws, Safety, and much more.
These Car Trailer Plans meet DOT regulations for overall max legal width and make licensing a breeze!
You will not find a more complete set of welding project plans anywhere!
TRAILER SPECIFICATIONS:
Tires: ST225/75D15; Load Range "D"
Rims: 15" White Spoke
Gate: 50" x 79 1/2" Fold Flat Expanded Metal
2" x 8" Pressure Treated Pine Decking
16" Sides and Front Rail
Inside Trailer Width: 80"
Overall Trailer Width: 96"
Inside Trailer Height: 16"
Overall Trailer Height: 30"
Inside Trailer Length: 144"
Overall Trailer Length: 186"
Weight of Trailer: 1,200 lb
Gross Vehicle Weight Rating: 7,000 lbs
Gross Axle Weight Rating: 3,500 lb
Number of Axles: 2
2" Coupler
5,000 lb Tongue Jack
5"x3"x1/4" Angle Main Frame
Flat Four Plug and All DOT Required Lighting and Reflectors
Finish: Black
Safety chains with latch.
Trailer is designed with heavy angle iron frame, with Channel frame tongue.
Fenders with DOT approved lighting. Round tube double axle with (2) 3,500 Lb. leaf spring
suspension. Hydraulic surge brake or Electric brake option